Youm-e-Takbir is famous as a national day in Pakistan on 28 May in commemoration of Chagai-I and Chagai-II series of nuclear tests. Youm-e-Takbeer is being observed on Saturday through national zeal and fervour to commemorate the historic nuclear tests at Chaghi in 1998. Special prayers were offered in the morning for the development and prosperity of Pakistan the supremacy of the constitution and eradication of terrorism.
28 May Youm e Takbeer 2022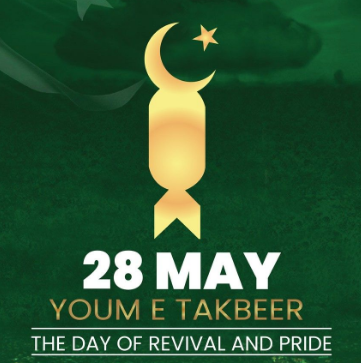 National Broadcasting Service, a committed current affairs channel of Radio Pakistan will broadcast special programs to remember the energy of the day. Today on Youm-e-Takbeer day special gatherings, rallies and meeting will be held across the Pakistan in order to mark the member able day by benefiting manner.
Pakistan is one of ten countries in the world to operate a complete nuclear fuel cycle and is almost 30 countries that have nuclear power plants in operation.
In 1972 Zulfiqar Ali Bhutto said, "Pakistan will fight, fight for a thousand years. If India builds the bomb… we will eat grass, even go hungry, but we will get one of our own… We will have no other choice!"
"There is no Power on Earth that can undo Pakistan." Muhammad Ali Jinnah.
The Ministry of Information and Broadcasting has also released a national song in this connection through an plan aimed to highlight the significance of this day. This day not only completed Pakistan seventh nuclear state of the world but also the extremely first Islamic state equip nuclear arsenal.
PM Muhammad Shehbaz Sharif had previously announced 10-day celebrations on the completion of 24 years of nuclear tests. 28 May 1998, exactly 24 years ago our beloved Pakistan fired up the nuclear test and turn out to be the 1st Islamic and world's 7th Country to have nuclear technology.