Government College University GCU has admitted students for admission in 2022 courses in Masters and all students who wish to be part of the top-of-the-line University will be able to present an admission form to the admissions office of GCU up to the 10th of September in 2022. Every time thousands of students submit their application forms for obtain education in this institute. The mission of GC Lahore university is to provide education in old traditional environment through modern structure of study.
GCU Lahore Master MA, MSc, MBA Admissions 2022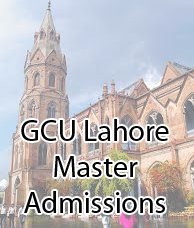 The admissions are open in graduate and postgraduate levels programs and The GCU of Lahore new admission advertisement has been available in the daily national newspaper. As per the statement Admission to different classes in GC University Lahore is decided on merit strictly and following the rules, regulations, policies and events of the University.
Government college GCU Lahore is measured as a high ranking institute that was initial time established in 1864 in the heart of Pakistan Lahore and Faisalabad. The necessities of the admission and the whole process mentioned here for helping the students. Government College University Lahore will like the privilege of becoming the especially first educational institution to present high-quality education inside Pakistan.
Discipline:
Botany
Chemistry
Mathematics
Physical Education
Statistics
Political Science
Psychology
Islamic Studies
English Literature
Urdu
GC University Lahore Fee Structure 2022
MSc Rs. 187,500/-
Mphil Rs. 220,700/-
PhD Dr. 182,000/-
MBA The MBA cost Rs. 512,500/-
This Government College University opens admission each year for numerous courses this year also a large number of students are going to apply for the Master Program. Aspirants who are interested to obtain admission have to qualify for the GCU-GAT through at least 50% marks. Students who desire to apply for the GCU GAT MS/MPhil Admission must fulfill the requirements.
GCU Lahore MBA Admission
MBA
MSc Psychology
MA Botany
MSc Statistics
MA Mathematics
MSc Physical Education
MA History
MSc English Literature
MA Political Sciences
MSc English Language Teaching
MA Psychology
MSc Urdu
MA Statistics
MS Banking & Financial Economics
MA Physical Education
MS Clinical Psychology
MA English Literature
MS Entrepreneurship & SME Management
MA English Language Teaching
MS Forensic Chemistry
MA Urdu
MS Geography
MSc Botany
MS Industrial Organization Psychology
MSc Mathematics
MS Pharmaceutical Chemistry
MSc History
MS Electrical Engineering
MSc Political Science
MBA Executive
CSS
MS Computer Science
MA Chemistry
PGD English Language Teaching
MSc Chemistry
MS Child Guidance and Educational Counselling
MA Islamic Studies
PGD in Child and Adult Psychotherapy
MSc Islamic Studies
EMBED
GCU Lahore MPhil Admission
MPhil Applied Physics
MPhil Mathematics
MPhil Biotechnology
MPhil Microbiology
MPhil Botany
MPhil Persian
MPhil Chemistry
MPhil Philosophy
MPhil Economics
MPhil Physics
MPhil English Literature
MPhil Political Science
MPhil Environmental Sciences
MPhil Psychology
MPhil History
MPhil Statistics
MPhil Islamics Studies
MPhil Urdu
MPhil Leading to Ph.D. Mathematical Sciences
MPhil Zoology
GCU Lahore Ph.D. Admission
Ph.D. Applied Physics
Ph.D. Physics
Ph.D. Computer Science
Ph.D. Chemistry
Ph.D. Mathematics
Ph.D. Zoology
Ph.D. Islamic Studies
Ph.D. Botany
Ph.D. English
Ph.D. History
Ph.D. Persian
Ph.D. Microbiology
Ph.D. Biotechnology
Ph.D. Political Sciences
Ph.D. Environmental Science
Ph.D. Urdu
Last Date:
The last date of submission application is 21-08-2022.
All students can submit their admissions form online by visit this page because we have placed all info regarding gcu Lahore admissions 2022, fee structure, merit lists 2022 gcu Lahore, last date to apply online gc university, how to apply online gcul and all programs eligibility criteria. GC University Lahore's admission section was recognized in 1864 and it was designed to provide an education that was open to all students from the Subcontinent in spite of of color, caste or religion.
GCU Lahore Contact Number
| | |
| --- | --- |
| Phone Number | +92-42-99213340 |
| Email | registrar@gcu.edu.pk |
| Website | www.gcu.edu.pk |
| Affiliation | HEC Recognized |
| Address | GC University, Katchery Road Lahore 54000 |