The Pakistan Government has the initiative to assist commendable talent under the title of Ehsaas Taleemi Wazaif. Under the nationwide Ehsaas Education Stipends programme, students aged 4-22 years of all Ehsaas recipient families are entitled to get education stipends. The major object of this program is to help the primary, elementary and secondary students. This programme includes primary, secondary and higher secondary school stipends for children to get better their access to education.
How to Apply for Ehsaas Taleemi Wazaif 2022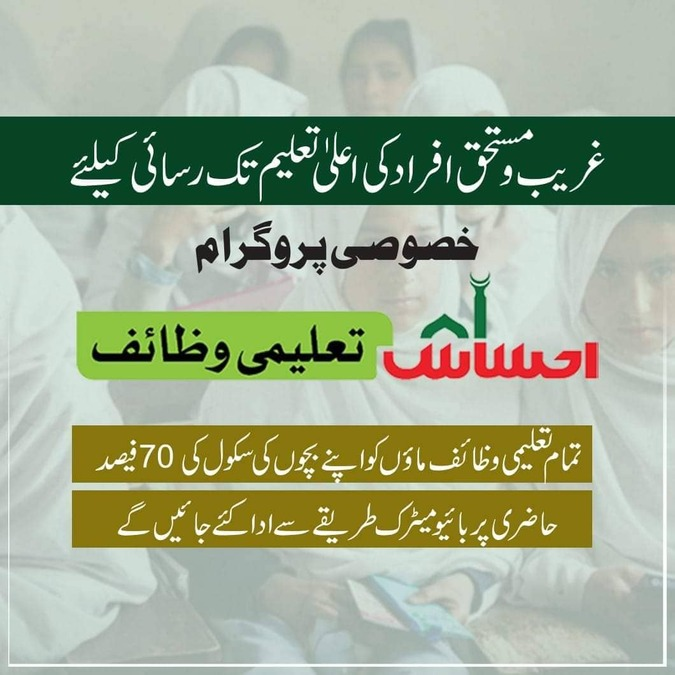 | | |
| --- | --- |
| Country  – Location | All over Pakistan |
| Organization | Ehsaas Wazaif Program |
| Educational Classes | Primary, Elementary, Secondary, Inter |
| Last Date to apply | No Deadline |
The program will be rolled out across the country in all Pakistan districts and Ehsaas Taleemi Wazaif " android application has specially been developed to enable enrolment of children from Ehsaas eligible household at their doorstep. In the next three years, the Ehsaas Taleemi Wazaif program intends to carry 10 million commendable children into its fold from 160 districts of Pakistan.
The program was prepared in line through the Ehsaas Stipend policy, which encourages higher scholarship amounts for girls compared to boys. The programme has been comprehensive nationwide to all districts and As per Ehsaas' weighted-in-favour-of-girls stipends policy for all conditional cash transfer programmes, girls obtain a higher stipend across all age groups, which signals the government's intent to make easy girls' education.