Islamabad Ramadan Calendar 2022 Sehri-o-Iftar Timings
The Islamabad Ramadan Calendar 2022 will show you Islamabad sehr o iftar timings on day by day basis of the whole fasting month of Ramadan, while Islamabad sunset and Islamabad sunrise timings can also be access via Urdu Point Islamabad Sehri also Iftari timings.
Islamabad Ramadan Calendar 2022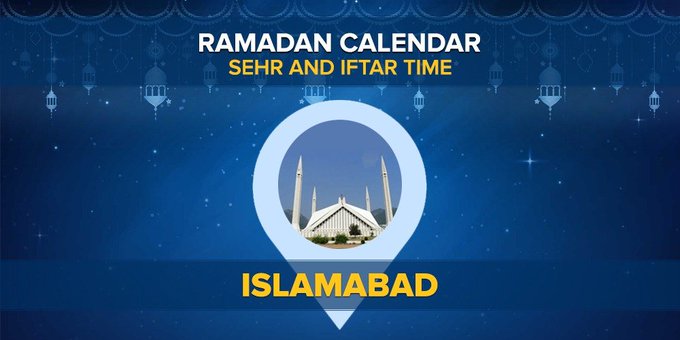 Fasting or Siam is the 3rd pillar of Islam according to which Muslims desist themselves from having food and water from dawn to sunset. This whole month, let us treat in the act of praying and giving charity, for and to those who have been the nearly all affected by this pandemic disease.
The reason of writing this aticle is now to provide the best and the nearly all authentic relevant information to every the people there interpretation this post. Ramadan being the 9th month according to the Islamic calendar in sequential order. Through the sehar and iftar time differing in every city across the country, are the timings for Islamabad City:
| Roza | Date | Sehr | Iftaar |
| --- | --- | --- | --- |
| 1 | 03 April 2022 | 04:27 | 18:34 |
| 2 | 04 April 2022 | 04:26 | 18:34 |
| 3 | 05 April 2022 | 04:24 | 18:35 |
| 4 | 06 April 2022 | 04:23 | 18:36 |
| 5 | 07 April 2022 | 04:21 | 18:37 |
| 6 | 08 April 2022 | 04:20 | 18:37 |
| 7 | 09 April 2022 | 04:18 | 18:38 |
| 8 | 10 April 2022 | 04:17 | 18:39 |
| 9 | 11 April 2022 | 04:15 | 18:40 |
| 10 | 12 April 2022 | 04:14 | 18:40 |
| 11 | 13 April 2022 | 04:12 | 18:41 |
| 12 | 14 April 2022 | 04:11 | 18:42 |
| 13 | 15 April 2022 | 04:09 | 18:43 |
| 14 | 16 April 2022 | 04:08 | 18:43 |
| 15 | 17 April 2022 | 04:06 | 18:44 |
| 16 | 18 April 2022 | 04:05 | 18:45 |
| 17 | 19 April 2022 | 04:03 | 18:46 |
| 18 | 20 April 2022 | 04:02 | 18:47 |
| 19 | 21 April 2022 | 04:00 | 18:47 |
| 20 | 22 April 2022 | 03:59 | 18:48 |
| 21 | 23 April 2022 | 03:58 | 18:49 |
| 22 | 24 April 2022 | 03:56 | 18:50 |
| 23 | 25 April 2022 | 03:55 | 18:50 |
| 24 | 26 April 2022 | 03:53 | 18:51 |
| 25 | 27 April 2022 | 03:52 | 18:52 |
| 26 | 28 April 2022 | 03:51 | 18:53 |
| 27 | 29 April 2022 | 03:49 | 18:54 |
| 28 | 30 April 2022 | 03:48 | 18:54 |
| 29 | 01 May 2022 | 03:47 | 18:55 |
| 30 | 02 May 2022 | 03:45 | 18:56 |