Jazz Call Packages 2022 Daily, Weekly and Monthly
Jazz announce new packages, which are hidden packages and But here you can obtain all the jazz packages. Jazz was start on in 1994 and got 60% of customers every over Pakistan. Mobilink Jazz provide the most outstanding call packages for rural and urban areas and There are numerous daily, weekly and monthly packages.
Jazz Call Packages 2022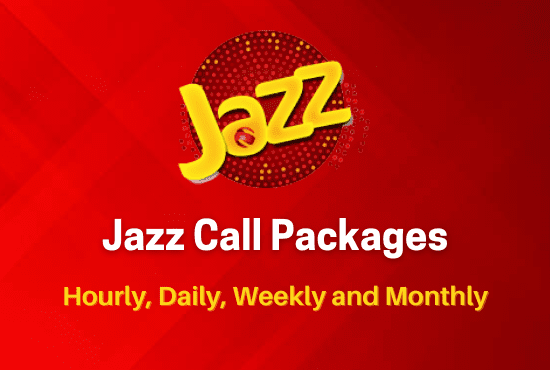 In order to facilitate the customers, Jazz is contribution daily, weekly and monthly Call packages according to their necessities. These different Jazz Call Packages provide options to customers so that they can easily fulfill their requirements. Jazz, formerly recognized as 'Mobilink', is one of the main networks of Pakistan and it was launched in the year 1994 and turn out to be the voice of Pakistan in the year 1999.
Jazz witness huge growth, lastly coming up through jointly around 55 million users and Jazz become the Largest Telecom Network in Pakistan. Separately from this, Jazz offers a lot of prepaid bundles and In order to preserve people, Jazz provides call packages on a regular, weekly, and monthly basis.
Jazz Daily Call Packages
Network
Package Name
Free On-Net Mins
Free Off-Net Mins
Free SMS
Free MBs
Validity
Price
Jazz
Jazz Super F&F Package
Unlimited
—
Unlimited
—
1 Day
Rs.9.56

How to Subscribe

Jazz
Apna Shehar Package (Selected Cities)
Unlimited
—
1500
100
1 Day
Rs.10

How to Subscribe

Jazz
Jazz Sindh Package
Unlimited
—
1500
250
1 Day
Rs.12

How to Subscribe

Jazz
Jazz Punjab Package (Selected Cities Only)
Unlimited
—
1000
250
1 Day
Rs.12

How to Subscribe

Jazz
Karachi Daily Hybrid Package (For Khi Only)
Unlimited
—
1500
250
1 Day
Rs.12.72

How to Subscribe

Jazz
KPK Daily Offer
Unlimited
—
1500
250
1 Day
Rs.13

How to Subscribe

Jazz
Jazz Day Bundle
300
—
300
20
1 Day
Rs.14

How to Subscribe

Jazz
Jazz Daily Super
1440
—
50
200
1 Day
Rs.20

How to Subscribe

Jazz
Jazz Super Plus
500
5
500
500
1 Day
Rs.30

How to Subscribe
Jazz Weekly Call Packages
Network
Package Name
Free On-Net Mins
Free Off-Net Mins
Free SMS
Free MBs
Validity
Price
Jazz
Jazz New SIM Offer
1000
—
1000
1000
7 Days
Rs.0

How to Subscribe

Jazz
Jazz 4G Sim Offer
500
—
500
5000
7 Days
Rs.0

How to Subscribe

Jazz
Jazz Super Sim Offer
600
30
600
6000
7 Days
Rs.60

How to Subscribe

Jazz
Jazz Weekly Voice Offer
650
—
—
—
7 Days
Rs.80

How to Subscribe

Jazz
Jazz Work From Home Bundle
Unlimited
—
—
10000
7 Days
Rs.95

How to Subscribe

Jazz
Jazz Sargodha Weekly Offer
2000
—
2000
2000
7 Days
Rs.100

How to Subscribe

Jazz
Jazz Haftawar All Rounder Package (Selected Cities Only)
1000
50
1000
1000
7 Days
Rs.120

How to Subscribe

Jazz
Jazz Weekly Hybrid
1000
30
1000
1000
7 Days
Rs.126

How to Subscribe

Jazz
Jazz Weekly Social Plus
500
25
500
8000
7 Days
Rs.150

How to Subscribe

Jazz
Jazz Weekly All Network Package
1000
60
1000
3000
7 Days
Rs.182

How to Subscribe

Jazz
Jazz Weekly Super Duper Offer
1500
60
1500
6000
7 Days
Rs.228

How to Subscribe

Jazz
Jazz Weekly Super Plus
5000
80
5000
12000
7 Days
Rs.269

How to Subscribe

Jazz
Jazz Weekly Super Max
6000
100
6000
30000
7 Days
Rs.337

How to Subscribe
Jazz Monthly Call Packages
Network
Package Name
Free On-Net Mins
Free Off-Net Mins
Free SMS
Free MBs
Validity
Price
Jazz
Jazz Mahana Bachat Offer
250
35
2000
4000
30 Days
Rs.120

How to Subscribe

Jazz
Jazz Karachi Mahana Offer
5000
150
5000
10000
30 Days
Rs.454

How to Subscribe

Jazz
Jazz Monthly Hybrid Bundle
10000
50
2500
2000
30 Days
Rs.489

How to Subscribe

Jazz
Jazz Super Duper Card
2000
150
2000
2000
30 Days
Rs.600

How to Subscribe

Jazz
Jazz Monthly Premium Package
250
—
—
25000
30 Days
Rs.650

How to Subscribe

Jazz
Jazz Monthly Super Duper
3000
165
3000
8000
30 Days
Rs.655

How to Subscribe

Jazz
Jazz Monthly Super Duper Plus Offer
5000
300
5000
15000
30 Days
Rs.850

How to Subscribe
Jazz Others Call Packages
Network
Package Name
Free On-Net Mins
Free Off-Net Mins
Free SMS
Free MBs
Validity
Price
Jazz
Jazz Saudia Arabia & UAE Offer
—
—
—
—
Rs.0

How to Subscribe

Jazz
Jazz UK Offer
—
—
—
—
Rs.0

How to Subscribe

Jazz
Jazz Sim Lagao Offer
3000
—
3000
6000
Rs.0.01

How to Subscribe

Jazz
Jazz Gold Super Advance Offer

Free Balance: 15

—
—
—
—
Rs.4.60

How to Subscribe

Jazz
Jazz 3 Day Max Offer
100
—
—
1000
3 Days
Rs.35

How to Subscribe

Jazz
Jazz Give A Bundle
100
—
—
1000
3 Days
Rs.35

How to Subscribe

Jazz
Jazz Voice Infinity Offer
115
—
—
250
6 Months
Rs.50

How to Subscribe

Jazz
Jazz Lajawab Haftawar Offer
2500
25
2500
2500
Rs.70

How to Subscribe