Karachi Circular Railway Route Map, Stations
Check the complete details of Karachi Circular Railway Route Map, Stations & Stops etc. Karachi Circular Railway Phase II will consist of the 14.8km circular section from Gulistan-e-Johar to the planned station at Liaquatabad Station. The Pakistan Railways is to start again the Karachi Circular Railway, all the way from its Pipri Station to Orangi Station. The loan is billed in 40 years by the stakeholders of the City District Government Karachi Pakistan Railways and Government of Sindh (KUTC).
The Karachi Circular Railway revitalization project includes the alteration of the old Karachi Circular Railway (KCR) into a mass transit system and Karachi is among the main cities in the world through a increasingly growing population.
Location
Karachi, Pakistan
Name
Karachi Circular Railway Revival
Population
18 million (2009)
The official give details that all major encroachments have been removed and in four-to-5 days, they will repair any damage found on the railway track. The Karachi City does not have a successful Mass Transit System like other mega cities of the world.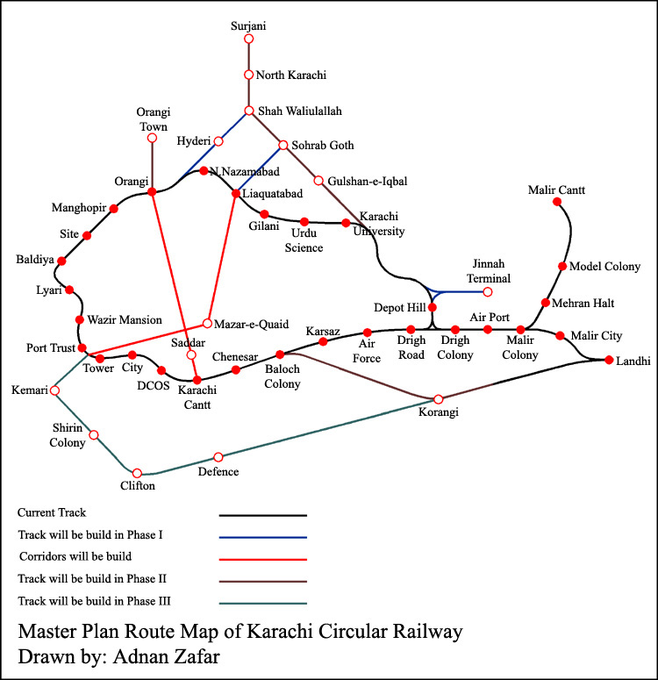 The 1st phase of the revitalized railway line in Karachi will cover 60 km through a scheduled gap of 3 hours and The Karachi Circular Railway project comprises a 29.41-kilometre-long two-way KCR loop along through the provision of a 13.69-kilometre-long 2-way dedicated track beside the Pakistan Railways' mainline which stretches from the City Station to the Drigh Road Station.
Karachi Jinnah International Airport
Start gate
Drigh Clony
Drigh Road
Karsaz
Shaheed-i-Millat Road
Karchi cantt
Karachi City
Tower
Wazir mension
Lyari
Baldia Town
Site
Manghopir
Orangi
North nazimabad
Liaqat Abad
NIPA Chorangi
Gulistan-Johar
Hill View