Karachi Ramadan Timings Calendar 2022 Sehri & Iftar
Ramadan is the month in which Muslims fast for the complete day to complete their duties and make Allah Almighty happy and obtain rid of all the sins. The Karachi Ramadan Calendar will explain you Karachi sehr o iftar timings on every day basis of the complete fasting month of Ramadan, while Karachi sunset and Karachi sunrise timings can also be admittance.
Karachi Ramadan Timings Calendar 2022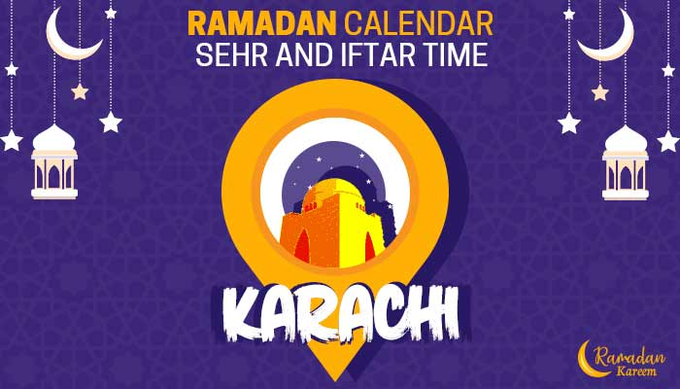 The Ramadan schedule 2022 has been obtainable for all main cities of Pakistan. The Pakistani Muslim population living in Karachi can stay updated through the Ramadan Calendar 2022 Karachi and can examine the number of fasting hours. Ramadan Calendar 2022 Karachi is all regarding Karachi Ramadan time as well as today Sehri Time at 05:34 and iftar time at 6:37 .
The good thing regarding this Ramadan 2022 Karachi schedule is that it is suitable for different districts of Karachi including Karachi Central, Karachi West, Karachi South, Karachi East, Malir, and Korangi. The Islamic calendar is frequently ten to twelve days shorter than the Georgian calendar and Iftar time Karachi vary every year.
Completely designed according to the geographic location of city, Karachi Ramadan Timings Full Schedule 2022 is appropriate for the upcoming holy month of Ramadan and now below you can get the Karachi Ramadan Timings 2022 Calendar Sehri & Iftar.
| Roza | Date | Sehr | Iftaar |
| --- | --- | --- | --- |
| 1 | 03 April 2022 | 05:04 | 18:50 |
| 2 | 04 April 2022 | 05:03 | 18:50 |
| 3 | 05 April 2022 | 05:02 | 18:50 |
| 4 | 06 April 2022 | 05:01 | 18:51 |
| 5 | 07 April 2022 | 05:00 | 18:51 |
| 6 | 08 April 2022 | 04:59 | 18:52 |
| 7 | 09 April 2022 | 04:57 | 18:52 |
| 8 | 10 April 2022 | 04:56 | 18:53 |
| 9 | 11 April 2022 | 04:55 | 18:53 |
| 10 | 12 April 2022 | 04:54 | 18:53 |
| 11 | 13 April 2022 | 04:53 | 18:54 |
| 12 | 14 April 2022 | 04:52 | 18:54 |
| 13 | 15 April 2022 | 04:51 | 18:55 |
| 14 | 16 April 2022 | 04:50 | 18:55 |
| 15 | 17 April 2022 | 04:49 | 18:56 |
| 16 | 18 April 2022 | 04:48 | 18:56 |
| 17 | 19 April 2022 | 04:47 | 18:57 |
| 18 | 20 April 2022 | 04:45 | 18:57 |
| 19 | 21 April 2022 | 04:44 | 18:58 |
| 20 | 22 April 2022 | 04:43 | 18:58 |
| 21 | 23 April 2022 | 04:42 | 18:59 |
| 22 | 24 April 2022 | 04:41 | 18:59 |
| 23 | 25 April 2022 | 04:40 | 18:59 |
| 24 | 26 April 2022 | 04:39 | 19:00 |
| 25 | 27 April 2022 | 04:38 | 19:00 |
| 26 | 28 April 2022 | 04:37 | 19:01 |
| 27 | 29 April 2022 | 04:36 | 19:01 |
| 28 | 30 April 2022 | 04:35 | 19:02 |
| 29 | 01 May 2022 | 04:35 | 19:02 |
| 30 | 02 May 2022 | 04:34 | 19:03 |