The holy month of Ramadan is stare as one of the five main pillars of Islam and is experiential by Muslims approximately the world to fast from the dawn to dusk. Ramadan is the 9th month of the Islamic calendar and it is experimental by Muslims approximately the world to fast from dawn to dusk.
Lahore Ramadan Timings Calendar 2022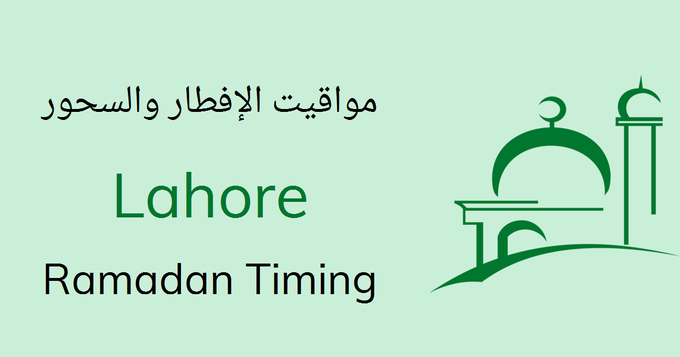 Exclusively intended according to the geographic location of city, Lahore Ramadan Timings Schedule 2021 is appropriate for the future holy month of Ramadan. Through the sehar and iftar time conflicting in each city across the country, timings for Lahore.
Find the complete Lahore Ramadan timings through Iftar and Inteha e Sehr time and The Ramadan schedule 2021 has been accessible for all main cities of Pakistan and now you can download the Lahore Ramadan Timings Calendar Sehar & Iftar.
Lahore Ramadan Calendar 2022
| Roza | Date | Sehr | Iftaar |
| --- | --- | --- | --- |
| 1 | 03 April 2022 | 04:26 | 18:26 |
| 2 | 04 April 2022 | 04:24 | 18:26 |
| 3 | 05 April 2022 | 04:23 | 18:27 |
| 4 | 06 April 2022 | 04:21 | 18:28 |
| 5 | 07 April 2022 | 04:20 | 18:28 |
| 6 | 08 April 2022 | 04:19 | 18:29 |
| 7 | 09 April 2022 | 04:17 | 18:30 |
| 8 | 10 April 2022 | 04:16 | 18:30 |
| 9 | 11 April 2022 | 04:14 | 18:31 |
| 10 | 12 April 2022 | 04:13 | 18:32 |
| 11 | 13 April 2022 | 04:12 | 18:32 |
| 12 | 14 April 2022 | 04:10 | 18:33 |
| 13 | 15 April 2022 | 04:09 | 18:34 |
| 14 | 16 April 2022 | 04:08 | 18:34 |
| 15 | 17 April 2022 | 04:06 | 18:35 |
| 16 | 18 April 2022 | 04:05 | 18:36 |
| 17 | 19 April 2022 | 04:03 | 18:36 |
| 18 | 20 April 2022 | 04:02 | 18:37 |
| 19 | 21 April 2022 | 04:01 | 18:38 |
| 20 | 22 April 2022 | 03:59 | 18:39 |
| 21 | 23 April 2022 | 03:58 | 18:39 |
| 22 | 24 April 2022 | 03:57 | 18:40 |
| 23 | 25 April 2022 | 03:56 | 18:41 |
| 24 | 26 April 2022 | 03:54 | 18:41 |
| 25 | 27 April 2022 | 03:53 | 18:42 |
| 26 | 28 April 2022 | 03:52 | 18:43 |
| 27 | 29 April 2022 | 03:51 | 18:43 |
| 28 | 30 April 2022 | 03:49 | 18:44 |
| 29 | 01 May 2022 | 03:48 | 18:45 |
| 30 | 02 May 2022 | 03:47 | 18:45 |