National T20 Cup Schedule 2023 Schedule & Fixtures
PCB Announced the National T20 Cup 2022 Schedule, Fixtures, Time table & Venue. The National T20 Cup 2022 is a Pakistan T20 domestic cricket competition being played in different cities in Pakistan. PTV Sports has pay for the Pakistan National T20 cup live streaming online rights which is measured as the Pakistan National Sports.
National T20 Cup Schedule 2022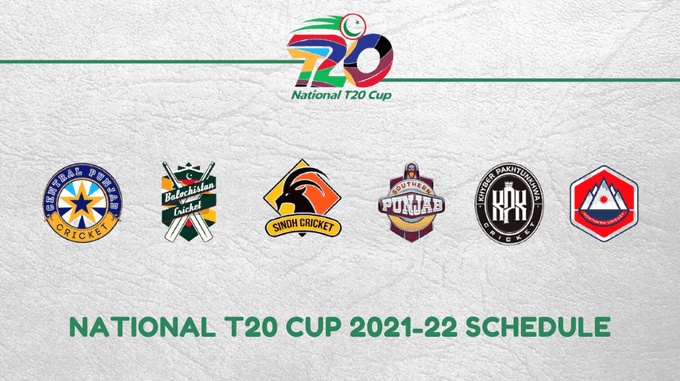 The Pakistan Domestic T20 competition National T20 Cup Schedule 2022 is here for all the 33+ matches that are set to begin on 1st of October in Karachi. National T20 cup will initiate a chance to the fans to watch movement stuffed cricket, yet it similarly serves chance to the players to sack worthwhile prize cash, the Pakistan Cricket Board affirmed in an official statement.
PCB has just made a profitable broadcasting deal through PTV Sports to provide the Pakistan National t20 cup live match coverage all across Pakistan and now below you can get the table of National T20 Cup Schedule 2022 Fixtures.
| | | | |
| --- | --- | --- | --- |
| Match Date | Teams | Match Name | Venue |
| 30-09-2022 | Northern vs Khyber Pakhtunkhwa | 1st Match | Karachi Cricket Stadium, Karachi |
| 30-09-2022 | Central Punjab vs Southern Punjab | 2nd Match | Karachi Cricket Stadium, Karachi |
| 1/10/2022 | Balochistan vs Sindh | 3rd Match | Karachi Cricket Stadium, Karachi |
| 1/10/2022 | Northern vs Southern Punjab | 4th Match | Karachi Cricket Stadium, Karachi |
| 2/10/2022 | Balochistan vs Khyber Pakhtunkhwa | 5th Match | Karachi Cricket Stadium, Karachi |
| 2/10/2022 | Central Punjab vs Sindh | 6th Match | Karachi Cricket Stadium, Karachi |
| 3/10/2022 | Northern vs Central Punjab | 7th Match | Karachi Cricket Stadium, Karachi |
| 3/10/2022 | Khyber Pakhtunkhwa vs Southern Punjab | 8th Match | Karachi Cricket Stadium, Karachi |
| 4/10/2022 | Balochistan vs Southern Punjab | 9th Match | Karachi Cricket Stadium, Karachi |
| 4/10/2022 | Northern vs Sindh | 10th Match | Karachi Cricket Stadium, Karachi |
| 5/10/2022 | Khyber Pakhtunkhwa vs Sindh | 11th Match | Karachi Cricket Stadium, Karachi |
| 5/10/2022 | Balochistan vs Central Punjab | 12th Match | Karachi Cricket Stadium, Karachi |
| 6/10/2022 | Khyber Pakhtunkhwa vs Central Punjab | 13th Match | Karachi Cricket Stadium, Karachi |
| 6/10/2022 | Balochistan vs Northern | 14th Match | Karachi Cricket Stadium, Karachi |
| 9/10/2022 | Northern vs Central Punjab | 15th Match | Karachi Cricket Stadium, RawalKarachi |
| 9/10/2022 | Sindh vs Southern Punjab | 16th Match | Karachi Cricket Stadium, RawalKarachi |
| 10/10/2022 | Balochistan vs Khyber Pakhtunkhwa | 17th Match | Karachi Cricket Stadium, RawalKarachi |
| 10/10/2022 | Central Punjab vs Sindh | 18th Match | Karachi Cricket Stadium, RawalKarachi |
| 11/10/2022 | Northern vs Southern Punjab | 19th Match | Karachi Cricket Stadium, RawalKarachi |
| 11/10/2022 | Balochistan vs Sindh | 20th Match | Karachi Cricket Stadium, RawalKarachi |
| 12/10/2022 | Khyber Pakhtunkhwa vs Southern Punjab | 21st Match | Karachi Cricket Stadium, RawalKarachi |
| 12/10/2022 | Balochistan vs Central Punjab | 22nd Match | Karachi Cricket Stadium, RawalKarachi |
| 13-10-2022 | Khyber Pakhtunkhwa vs Sindh | 23rd Match | Karachi Cricket Stadium, RawalKarachi |
| 13-10-2022 | Central Punjab vs Southern Punjab | 24th Match | Karachi Cricket Stadium, RawalKarachi |
| 14-10-2022 | Northern vs Sindh | 25th Match | Karachi Cricket Stadium, RawalKarachi |
| 14-10-2022 | Khyber Pakhtunkhwa vs Central Punjab | 26th Match | Karachi Cricket Stadium, RawalKarachi |
| 15-10-2022 | Balochistan vs Northern | 27th Match | Karachi Cricket Stadium, RawalKarachi |
| 15-10-2022 | Sindh vs Southern Punjab | 28th Match | Karachi Cricket Stadium, RawalKarachi |
| 16-10-2022 | Northern vs Khyber Pakhtunkhwa | 29th Match | Karachi Cricket Stadium, RawalKarachi |
| 16-10-2022 | Balochistan vs Southern Punjab | 30th Match | Karachi Cricket Stadium, RawalKarachi |