Pakistan Cricket Team's Complete Schedule 2022
Pakistan cricket team will starts their 2022 through PSL season 7 form 27th January 2022 to 27th February 2022. Pakistan Cricket Team had a extraordinary run in 2021 and they won a record number of T20I matches (20) and also whitewashed South Africa and Bangladesh in Test format and The team however, gone limited-overs series in England.
Pakistan Cricket Team's Complete Schedule 2022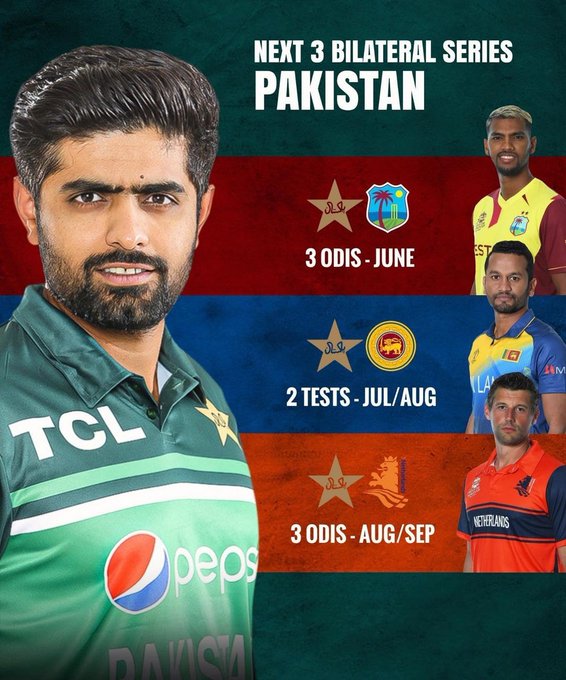 The Tests will get place in Karachi (3-7 March), Rawalpindi (12-16 March), and Lahore (21-25 March) whilst Lahore will be the venue for the four white-ball matches to be played from 29 March to 5 April 2022. The Green Shirts will begin the year with the 7th edition of the Pakistan Super League (PSL) and The series, if materialize will be Australia's first tour to the country since 1998.
This will include 3 Test matches, 3 ODIs, and a single T20I among 3 March and 5 April 2022. No doubt it show what it is actually capable of and The team depicted its potential under the greatest captaincy of Babar Azam. Australia is scheduled to tour Pakistan for the multi-format series in March earlier than Babar Azam & Co head to Sri Lanka for a two-sided series and the Asia Cup 2022.
The Pakistan Cricket Team will then travel to Australia for the T20 World Cup 2022 later than the global mega-event, England are once again programmed to travel to Asia for a 3-match Test series which will be part of the ICC World Test Championship and now below you can get the Pakistan Cricket Team's Complete Schedule for year 2022.
Month
Tournament Details
June 2022
West Indies Tour of Pakistan 2022
Matches: 3 ODI matches
Venue: Pakistan
Jul – Aug 2022
Pakistan tour of Sri Lanka 2022
Matches: 2 Test and 3 ODI
Venue: Sri Lanka
August 2022
Pakistan tour of Netherlands 2022
Matches: 3 ODI
Venue: Netherlands | Status: On Schedule
September 2022
Asia Cup 2022
Matches: 12 ODI and 1 Final match
Venue: Sri Lanka
October 2022
England tour of Pakistan 2022
Matches: 5 ODI
Venue: Pakistan/UAE
Oct – Nov 2022
T20 World Cup 2022
Matches: 45 matches including final
Venue: Australia
Oct – Nov 2022
New Zealand tour of Pakistan 2022
Matches: 2 Test and 3 ODI
Venue: Pakistan/UAE
Nov – Dec 2022
England tour of Pakistan 2022-23
Matches: 3 Test
Venue: Pakistan/UAE
Feb – Mar 2023
Pakistan tour of Afghanistan 2023
Matches: 3 ODI
Venue: TBD | Status: On Schedule
June 2023
Asia Cup, 2023
Matches: 12 ODI and 1 Final match
Venue: Sri Lanka | Status: On Schedule
Oct – Nov 2023
ICC Cricket World Cup 2023
Matches: 48 ODI
Venue: India