Pakistan Tele Communication Limited (PTCL) Company in Pakistan which is given that the land line services, Evo and other Wi-Fi connections. PTCL is effortlessly providing download bill services to his users and Getting a duplicate bill by departing to the PTCL service centers or shopkeepers is a extraordinarily time-consuming task. Due to monthly base subscription, PTCL set aside his users to present their bill on 20th of every month and If you are failed to present your payment within due date, the services will be disengaged or terminated.
PTCL DSL Broadband/EVO Duplicate Bills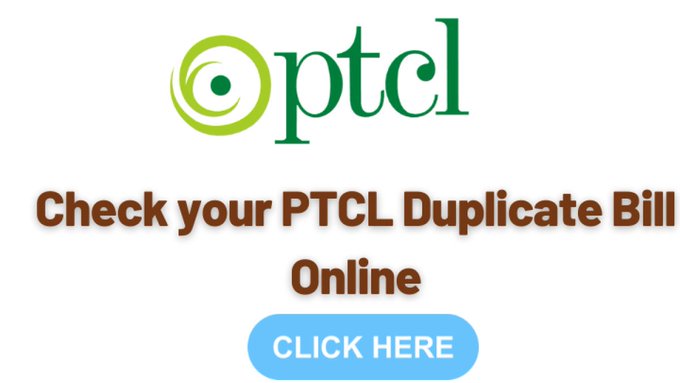 Payment methods of PTCL Bills:

One-stop Shop of PTCL
You can use UBL Omni or UBL net banking.
Easy Paisa recharge
Ufone service Centers
MCB Bank
And many other banks are providing this service.
The primary goal is to connect community on one computer desktop screen internationally in seconds and the broadband PTCLis fulfilled their seventy years for providing the new age amenities to the people. The PTCL provides home-based and corporate services and it also gives phone calls (IPTV (internet protocol TV) and broadband internet services. PTCL Bill read-through May is obtainable online, including the bill of landline, broadband, Evo and Smart TV and Pakistan Telecommunication Company Limited (PTCL) is the main telecommunication provider in Pakistan; it has more than 20 million subscribers all over the country.
Generate Your Duplicate Bill Through SMS
First of all You should Send an SMS to 90179, From your registered mobile number.
And Then SMS format should be (Bill space PSTN #).
Now You will get a link on your mobile via SMS.
And Finelly You PTCL duplicate bills can be generated by clicking on the link you received.
Through E-Bill Email
Firtst of all When a new bill is generated every month, an automatic email will be sent on your registered email address.
And you can Call PTCL helpline 1218, to register your email address.
Finelly Call the PTCL helpline to activate E-Bill service by providing your email address and mobile number.
PTCL internet packages are more efficient than others, and it also facilitate its consumers through EVO devices and wireless network services. PTCL bill online provides fee facility through which a buyer can pay their Landline, EVO, Smart tv and DSL bill online and It is a huge facility that saves users time. Though you have to pay heavy bills PTCL seems to be a blessing in the remote areas where the immense names are unable to get bigger their network.