The call, SMS and internet data packages will comprise other features in several packs as accompaniments to their essential service offer. Ufone ongoing its operations in 2001 and it is a completely owned additional of Pakistan Telecommunication Company Limited (PTCL).
Ufone Call Packages 2022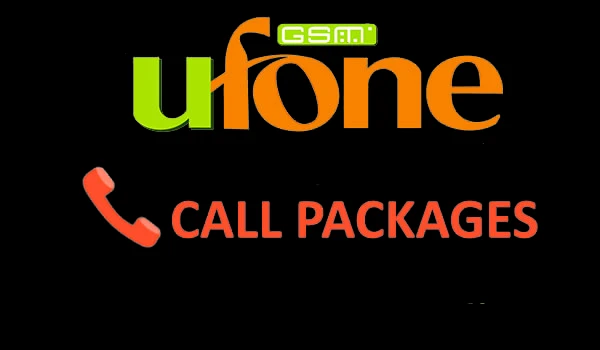 Ufone Pakistan, the 3rd Pakistani cellular service supplier also holds a sensible telecom market share in Pakistan. Ufone is the sub-department of Pakistan Telecommunication Company Limited (PTCL) and ongoing its operations on January 2001.
The simply offers which include all workings of service are Ufone Super Recharge Package and Ufone Super Mini Card, Ufone Super Card and Ufone Super Card plus whose costs are 45, 299, 520 and 599 correspondingly and only available are through recharge or card options.
It also become difficult to check all packages and Ufone Call Packages comes up through daily, hourly, weekly and monthly packages and now you can get the complete details of Ufone Call Packages 2022 Daily, Weekly and Monthly.
Ufone Daily Call Packages
Network
Package Name
Free On-Net Mins
Free Off-Net Mins
Free SMS
Free MBs
Validity
Price
Ufone
Ufone Best Day Offer
500
—
—
500
1 Day
Rs.11.99

How to Subscribe

Ufone
Ufone Beyhisaab Offer
Unlimited
—
—
—
1 Day
Rs.14.5

How to Subscribe

Ufone
Ufone Daily Pakistan Offer
100
—
—
10
1 Day
Rs.18

How to Subscribe
Ufone Weekly Call Packages
Network
Package Name
Free On-Net Mins
Free Off-Net Mins
Free SMS
Free MBs
Validity
Price
Ufone
Ufone Nayi SIM Offer
1000
—
—
4000
7 Days
Rs.0

How to Subscribe

Ufone
Ufone Weekly Pakistan Offer
700
—
—
100
7 Days
Rs.100

How to Subscribe

Ufone
Ufone Best Weekly Offer
1000
—
—
2000
7 Days
Rs.100

How to Subscribe

Ufone
Ufone Asli Chappar Phaar Offer
100
—
100
1000
7 Days
Rs.120

How to Subscribe

Ufone
Ufone Super Minutes
100
—
—
—
7 Days
Rs.135

How to Subscribe
Ufone Monthly Call Packages
Network
Package Name
Free On-Net Mins
Free Off-Net Mins
Free SMS
Free MBs
Validity
Price
Ufone
Ufone Sim Lagao Offer
6000
—
6000
6000
30 Days
Rs.0

How to Subscribe

Ufone
Ufone Monthly Pakistan Offer
4000
—
—
400
30 Days
Rs.418

How to Subscribe

Ufone
Ufone Super Card Plus – Rs. 599
1200
180
4200
2000
30 Days
Rs.599

How to Subscribe

Ufone
Ufone Super Card Max
Unlimited
250
4500
4000
30 Days
Rs.799

How to Subscribe

Ufone
Ufone Super Card Gold
Unlimited
350
Unlimited
7000
30 Days
Rs.999

How to Subscribe
Ufone Others Call Packages
Network
Package Name
Free On-Net Mins
Free Off-Net Mins
Free SMS
Free MBs
Validity
Price
Ufone
Ufone Nayi Sim Double Offer
8000
700
10000
14000
Rs.0

How to Subscribe

Ufone
Ufone Best Call Offer
Unlimited
—
—
—
2 Hours
Rs.6

How to Subscribe

Ufone
Ufone Power Hour
60
—
60
60
Rs.7.17

How to Subscribe

Ufone
Ufone Super Recharge Offer
300
10
700
100
2 Days
Rs.55

How to Subscribe

Ufone
Ufone Mini Super Card
500
75
3500
600
15 Days
Rs.330

How to Subscribe