Zong Call Packages 2022 Daily, Weekly and Monthly
Zong is a telecommunications company operational in Pakistan contribution voice and internet data services to its customers. A selection of package schemes that be different between price and cap are built-in in the regular call package Zong. Only cautiously read all of your Daily Packages and pick an important person who get together your perfect times.
Zong Call Packages 2022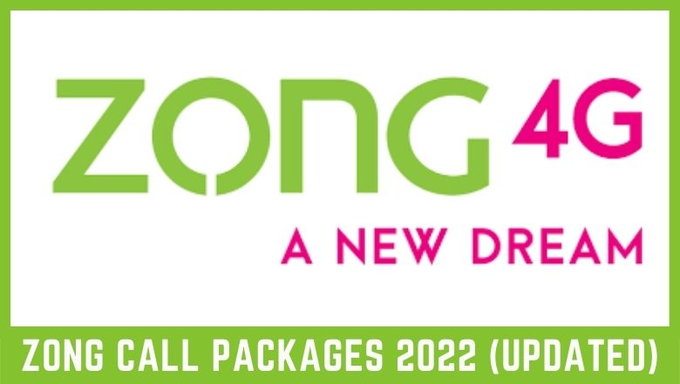 All package plans have sufficient minutes per day to get together the requirement for normal call minutes. This list hold all kind package plans feature like Zong Daily, Weekly and Monthly Call package. In Pakistan, there are four mobile operators and they all are contribution Call packages to the customers as they recognize that most people prefer to call immediately because of the busy routine.
Zong is grow to be a large network of Pakistan and provides a lot of call packages through the lowest prices so that each one can avail of this offer. One of these option is the Zong Shandaar present anywhere users can get unlimited Zong minutes, 500 SMS, and 50 MB internet for immediately Rs 8.
Zong Call Packages Student Offer Discounted
| | | | | |
| --- | --- | --- | --- | --- |
| PACKAGE | PRICE | DETAILS | VALIDITY | ACTIVATION CODE |
| Zong Super Student Bundle | Rs.5 plus Tax | Unlimited On-Net Minutes, 30 MB data | Next one hour | Just dial *5555# |
Zong Call Packages – Daily / 1 Day / 24 Hours For Prepaid
| | | | | |
| --- | --- | --- | --- | --- |
| PACKAGE | PRICE | DETAILS | VALIDITY | ACTIVATION CODE |
| Zong Daily Full Gup | Rs. 5 plus tax | 75 Free On-Net Minutes 30MB WhatsApp + 100 SMS | 1 Day | Dial *118*1# |
| Daily Voice Offer | Rs. 5 | 20 on-net minutes | 1 Day | *45# |
| Zong Shandar Daily Offer | Rs. 17 plus tax | Unlimited On-Net Minutes 50MB Internet + 800 SMS | 1 Day | Dial *999# |
| Zong Hello 1 Din Offer | Rs. 13 plus tax | 150 Free On-Net Minutes 50MB Internet + 150 SMS | 1 Day | Dial *2200*1# |
| Zong Flutter Package | Rs. 12 plus tax | 120 Free On-Net Minutes 120 SMS 50 MB Internet | 1 Day | Dial *369# |
| Zong Sixer Plus Package | Rs. 8 plus tax | Unlimited On-Net Minutes 500 SMS 1 MB Internet | 6am – 6pm 1 Day | Dial:*666# |
| Zong Non-Stop Package | Rs. 10 plus tax | Unlimited On-Net Minutes | (Except 7pm to 10pm) 1 Day | Dial:*777# |
Zong Call Packages Weekly / 7 Days for Prepaid Users
| | | | | |
| --- | --- | --- | --- | --- |
| PACKAGE | PRICE | DETAILS | VALIDITY | ACTIVATION CODE |
| Zong Shandaar Haftawaar Offer | Rs.120 plus tax | 500 Free On-Net Minutes 40 Off-net Minutes 500MB Internet 500 SMS (Call Setup charges 0.15 will be applicable on each call you make) | 07 Days | Dial *7# |
| Zong All-In-1 Weekly | Rs. 210 | 1000 Free On-Net Minutes 60 Off-Net Minutes 1000 SMS 4 GB Internet | 07 Days | Dial *6464# Or SMS "Weekly150" to 6464 |
| Zong Haftawar Load Offer | Rs. 300 | 5000 Free On-Net Minutes 100 Off-Net Minutes 5000 SMS 12 GB Internet | 07 Days | Dial *70# |
| Super Weekly Premium | Rs. 365 | 30 GB internet, and 180 off-net minutes, unlimited zong minutes | 07 Days | *225# |
| Zong Combo Pack (fortnightly package) | Rs. 200+Tax | 50 Free Off-Net Minutes 3GB Internet | 15 Days | Dial *15# |
Zong Monthly Call Packages For Prepaid Users
| | | | | |
| --- | --- | --- | --- | --- |
| PACKAGE | PRICE | DETAILS | VALIDITY | ACTIVATION CODE |
| Zong Shandaar Mahana Offer | Rs.305 plus tax | 1000 Free On-Net Minutes 100 Off-Net Minutes 1000 SMS 1GB Internet | 30 Days | Dial *1000# or Send "sub Mahana" to 7091 |
| Monthly Zong Super Card | Rs.699 | Unlimited Free On-Net Minutes 250 Off-Net Minutes 3000 SMS, 10 GB Internet | 30 Days | Dial *6464# and press 4 |
| Zong Supreme Offer | Rs. 899 | 5000 Free On-Net Minutes 300 Off-Net Minutes 5000 SMS 20 GB internet | 30 Days | *6464# > 4 > 2 > 2 |
| Zong Monthly Super Offer | Rs. 1299 | 5,000 Free On-Net Minutes 450 Off-Net Minutes 5,000 SMS 30 GB internet (6 GB YouTube 4 GB WhatsApp) | 30 Days | *6464# > 4 > 4 > 2 |
| Voice 425 Min Bundle | Rs. 600 | 425 All-network minutes, 500 SMS | 30 Days | Dial 310 |
| Voice 900 Min Bundle | Rs. 1200 plus tax | 900 All-net minutes 1000 SMS | 30 Days | Dial 310 |
Zong Call Packages for Postpaid Users
| | | | | |
| --- | --- | --- | --- | --- |
| PACKAGE | PRICE | DETAILS | VALIDITY | ACTIVATION CODE |
| Z500 | Rs. 500 plus tax | 1500 Free On-Net Minutes 300 Off-Net Minutes 1000 SMS 4GB Internet (2 GB can be used for WhatsApp) | 30 Days | Dial 310 |
| Z800 | Rs. 800 plus tax | Unlimited Free On-Net Minutes 500 Off-Net Minutes 2000 SMS 10GB Internet (4 GB can only be used for WhatsApp) | 30 Days | Dial 310 |
| All Voice – 500 | Rs. 550 plus tax | 500 All-net minutes | 30 Days | *567# |
| All voice – 1000 | Rs. 1000 plus tax | 1000 All-net minutes | 30 Days | *567# |
| Z1200 | Rs.1200 plus tax | Unlimited Free On-Net Minutes 800 Off-Net Minutes 4000 SMS 20 GB Internet (5 GB can only be used for WhatsApp) | 30 Days | Dial 310 |
| Z2500 | Rs. 2500 plus tax | Unlimited Free On-Net Minutes 1200 Off-Net Minutes 5000 SMS 46 GB Internet (10 GB can only be used for WhatsApp) | 30 Days | Dial 310 |