Zong Internet Packages 2022 Daily, Weekly & Monthly
Zong has over 5 million 4G users in Pakistan and the Company provide its services to about 10 million users during its 3G network. Through an unrelenting focus on the consumer needs, Zong 2G/3G/4G has sustained to build its network and services to address the requirements of customers, hence create a unique blend among affordability and seamless connectivity.
Zong Internet Packages 2022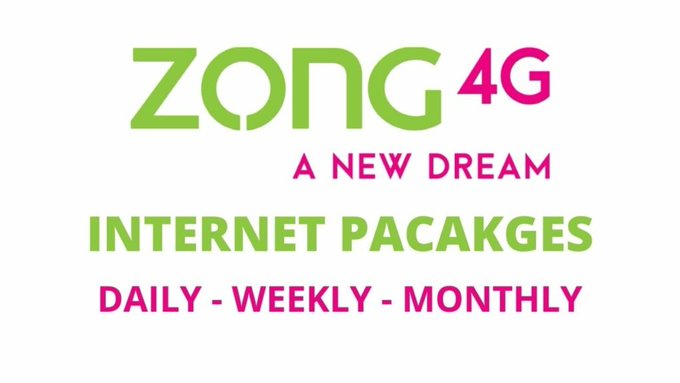 The Super Student Bundle is mainly designed for the students and the package comes through data and a call capability for the minimum charges. Zong Daily Net Package offers three dissimilar types of package plans and any user can select any package according to its needs and data requirements.
These services are helpful for together prepaid and postpaid customers. Zong brings a mixture of 2G, 3G and 4G internet services for its postpaid and prepaid users across the nation. It is holding 21% of subscribers across Pakistan in the Telecom sector.
Zong Internet Packages Daily
| Package Name  | Volume  | Charges  | Validity  | Subscription Code  |
| --- | --- | --- | --- | --- |
| Zong Daily Basic Internet Package | 100 MB | RS 23 | 1 Day | *6464# |
| Zong Daily Data Max Internet Package | 1GB Internet (500 Internet+ 500 Youtube) | RS 49+Tax | 1 day | *5# |
| Zong Daily Day Time Offer | 1.5 GB | RS 22.5+Tax | 4am to 7 pm | *47# |
| Zong Youth Offer | 2.5 GB | RS 22.5+Tax | 1am to 9 am | SMS "gno" to 6464 |
Zong Internet Packages Weekly
| Package Name  | Volume | Charges | Validity | Subscription Code |
| --- | --- | --- | --- | --- |
| Zong Super Weekly Premium Internet Package | 30 GB Internet, 100 off-net +Unlimited on-net minutes, unlimited SMS | RS 340 | 7 Days | *225# |
| Zong Super Weekly Max Internet Package | 30 GB (16 GB + 14 GB Data for YouTube) | RS 300 | 7 Days | *220# |
| Zong Super Weekly Plus Internet Package | 8 GB Internet (incl. 1 GB WhatsApp) | RS 240 | 7 Days | *20# |
| Zong Super Weekly Offer Package | 3 GB (incl. 25 all net mins) | RS 185 | 7 Days | *6464# |
| Zong Maga Data Offer Package Keekly | 100 GB (1AM to 9AM) | RS 98 | 7 Days | *808# |
Zong Monthly Internet Packages
| Package Name  | Volume | Charges | Validity | Subscription Code |
| --- | --- | --- | --- | --- |
| Zong Monthly Mini 150 Internet Package | 150 MB | RS 50 | 30 Days | *6464# |
| Zong Monthly Basic 500 Internet Package | 500 MB | RS 150 | 30 Days | *6464# |
| Zong Super Monthly Plus | 20 GB | RS 550 | 30 Days | *6464# |
| Zong Super Monthly | 5 GB | RS 290 | 30 Days | *6464# |
| Zong Monthly Social | 12 GB Facebook+ WhatsApp+ Imo, 250 on-net minutes | RS 190 | 30 Days | *6000# |
| Zong Super Monthly Max | 40 GB incl. 20 GB from 1AM to 9AM | RS 899 | 30 Days | *6# |